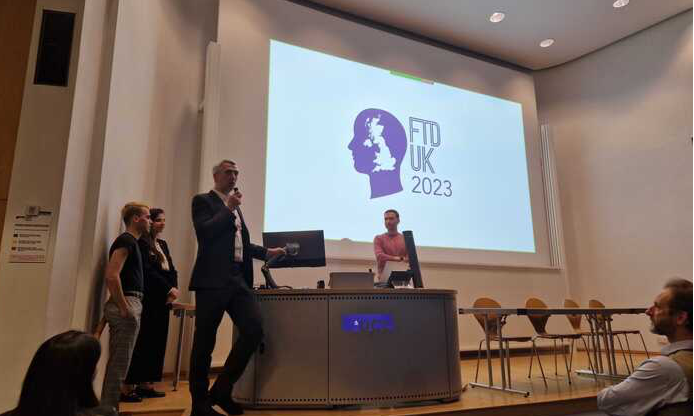 Following a short hiatus during the COVID-19 pandemic, last week marked the 10th edition of the annual FTD-UK conference with a successful event held at University College London (UCL). The meeting serves as a gathering of researchers, clinicians, and industry members who are working in frontotemporal dementia (FTD) and its associated disorders. Coordinated by Professor Jonathan Rohrer (UCL) and Professor James Rowe (University of Cambridge), the conference featured a line-up of esteemed speakers who shared insights and developments in the field of FTD research.
The morning session explored various aspects of FTD, beginning with a discussion on synaptic biomarkers by Maura Malpetti (University of Cambridge), Mica Clarke (UCL), and Aitana Sogorb Esteve (UCL). Jenna Gregory (University of Aberdeen) presented her research on the distinct molecular processes involved in the development of FTD with amyotrophic lateral sclerosis (FTD-ALS), highlighting two mechanistic signatures in individuals with the C9orf72 mutation. Lucy Chisman-Russell (UCL) then introduced the FTD Prevention Initiative, shedding light on their international efforts to promote FTD-based clinical trials.
Neurophysiological impairments in individuals with FTD-ALS were then elucidated by Matthew Livesey (University of Sheffield), while Benjamin Ryskeldi-Falcom (MRC Laboratory of Molecular Biology) discussed the different structures of an abnormal protein called TDP-43 and its pathological role in FTD. Concluding the morning sessions, Kathryn Bowles (University of Edinburgh) highlighted the significance of using human induced pluripotent stem cell (iPSC)-based models in understanding the disease process in FTD.
The afternoon session delved into therapeutic advancements in GRN-based clinical trials, with Serena Hung (Arkuda) presenting on her company's plans for an orally administered drug trial and David Cooper (Aviado Bio) discussing their plans for a gene-therapy trial. This was followed by an overview of the resources that are available to support individuals with FTD and their families, during a series of talks by the Rare Dementia Support team. More information about this can be found by navigating to their website – Rare Dementia Support. Finally, the session commenced with research updates by the two winners of the Early Career Researcher prize awards (Javier Bautista and Maura Malpetti), as sponsored by The Alzheimer's Society.
Despite the national train strikes, there was a great in-person turnout, allowing for a fantastic day of networking and collaboration. However, as the strikes prevented some people from attending, there was a surplus of catered food, so the team organised a donation to two local homeless shelters – the Salvation Army and St Mungo's.
The day showcased the latest advancements in FTD research and clinical trials, and we look forward to next year's conference, which is scheduled to take place in Cambridge. For more information about next year's meeting, please refer to the FTD-UK website.
Phoebe, on behalf of the FTD talk team.
Keep up to date on all things research by following us on twitter – @FTDtalk / @GENFI1