Congratulations to Rhian Convery and Mica Clarke from the FTDtalk team, who have both recently completed their PhDs after successfully defending their theses.
Rhian's work focused on investigating new digital markers of frontotemporal dementia (FTD) using iPad-based and mobile apps, as well as a portable eye-tracking device. Mica's research evaluated imaging biomarkers of FTD using positron emission tomography (PET), with a focus on glucose metabolism, neuroinflammation, as well as synaptic and mitochondrial dysfunction. For an overview of both of their work, see the summaries below.
Rhian Convery
Title: Novel digital biomarkers for frontotemporal dementia
Rhian finished her PhD in June 2023 investigating digital biomarkers of FTD. The basis of her research was borne out of the need for biomarkers that can reliably detect and monitor the progression of disease to be used in upcoming treatment trials. In particular, she noticed there were a lack of sensitive cognitive measures. Therefore, her PhD aimed to establish a set of digital tests that could be used to measure cognitive function in FTD.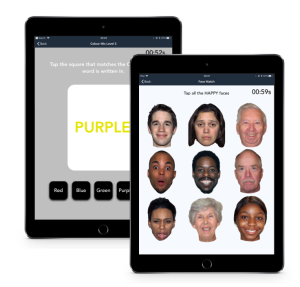 Rhian's work included the Ignite computerised cognitive assessment – an iPad-based app developed to measure common features of FTD, including executive problems and deficits in social skills. She tested the Ignite app in over 2,000 healthy controls to generate baseline normative scores for the cognitive tests. Additionally, she investigated the relationship of the tests with traditional psychology measures. When testing the app in patients at-risk of developing FTD, she found that Ignite was sensitive to early impairment in social skills and problem solving.
Her PhD work also included the investigation of a novel portable eye tracking experiment that can be completed outside of the laboratory, finding this assessment to be a reliable measures of cognitive function and sensitive in detecting early changes in emotion recognition in FTD.
Finally, Rhian investigated a smartphone app that passively monitors human-device interactions (e.g. reaction times when typing) to create a picture of one's mental state. Her work first established the acceptability of the app in the general population before demonstrating that the measures produced can detect differences in keyboard interactions in presymptomatic FTD mutation carriers.
Overall, she believes that her research provides evidence that biomarkers generated from different digital devices are valid and sensitive measures of cognitive function in FTD. Therefore, digital biomarkers could replace traditional assessments of cognition and could be used as outcome measures in clinical trials moving forward.

Mica Clarke
Title: Positron emission tomography imaging biomarkers of frontotemporal dementia
Mica's PhD evaluated PET imaging biomarkers of FTD. PET imaging enables the measurement of different proteins in the brain, and provides insights into molecular changes occurring in FTD during life that are otherwise only directly quantifiable at postmortem. Pathological heterogeneity within and between FTD phenotypes (FTD clinical syndromes) and genotypes (genetic mutation groups) makes accurate diagnosis challenging. Biomarkers that can aid diagnosis and monitor disease progression will be critical for clinical trials of potential treatments going forward.
In Mica's study, PET imaging of glucose metabolism identified early neuronal dysfunction in presymptomatic genetic FTD, with specific involvement of the anterior cingulate in a subgroup of MAPT mutation carriers. This could be helpful for clinical trials looking for treatment effects before symptoms begin to show. On the other hand, Mica's evaluation of a PET tracer of tau protein deposition in genetic FTD (AV-1451) compared to volumetric imaging suggested MRI provides a more sensitive biomarker of disease than tau PET in FTD when using this tracer.
Mica's investigation of neuroinflammation via PET imaging identified different areas of neuroinflammation in different FTD genotypes, suggesting there is an association between neuroinflammation and protein deposition. This implies that PET imaging of neuroinflammation might provide a sensitive biomarker, especially in MAPT-related FTD.
Finally, Mica investigated synaptic and mitochondrial dysfunction via PET imaging in FTD, the latter of which had been previously unexplored. This work revealed marked differences in both markers in FTD versus controls, which suggest both might provide sensitive biomarkers of disease. Furthermore, when Mica evaluated the same biomarkers at longitudinal follow up she found continued reductions in mitochondrial function over time. This result suggests that mitochondrial PET imaging may provide a biomarker of disease progression in FTD.
Replication of the findings from Mica's thesis in larger cohorts might facilitate the advancement of clinical trials in FTD.
Both Rhian and Mica will be continuing on in the team, working as Postdoctoral researchers. Rhian has now taken on the coordination of the Early Detection of Frontotemporal Dementia (EDoF) initiative, managing several studies of digital and/or portable methods of assessing speech, activity levels, motor function, and cognition in FTD. Mica is now evaluating novel biomarkers in FTD, with a particular focus on inflammation using PET imaging.
Phoebe, on behalf of the FTD talk team.
Keep up to date on all things research by following us on twitter – @FTDtalk / @GENFI1