Every year, alongside the main GENFI summer meeting (see our previous blog post for a full rundown), we hold our annual Participant Engagement Board (PEB) meeting. This is a roundtable discussion between researchers and GENFI participants, providing a fantastic opportunity to get valuable feedback on the running of our FTD research and clinical trials. It also allows our participants to ask questions to experts in the field of FTD research.

This blog post will provide a summary of this year's meeting which yielded valuable insights and informative discussions.
PET scans
The first session of this meeting was kicked off by Dr Maura Malpetti (University of Cambridge) who gave our PEB members an overview of PET scans, the principles behind this imaging technique and how they are used in FTD research.
Our key questions were centred around what our PEB members' concerns were (if any) about the safety or procedure of PET scans. Overall, participants were very willing to take part in research involving PET scans, as long as potential safety risks were openly discussed. In addition, we asked our participants what information they would like to be given if approached by a research study involving PET scans. It was suggested that more detailed information about the specific research objectives and hypotheses would be useful to include as part of the consent process and, as expected, specific information regarding safety, frequency, and general procedures was paramount.
Digital and remote testing
The recent COVID-19 pandemic has highlighted the importance of having more remote testing options. As such, one key focus of our research team here at UCL has been setting up the Early Detection of FTD (EDoF) digital biomarker study. So, as this is a very new area of research, we wanted to get our PEB member's opinions and thoughts on this topic.
During this second session, Dr Kerala Adams-Carr (University College London) gave a detailed rundown of our EDoF study, including how we are using of Fitbits, accelerometers and iPad based cognitive testing (see image below for more). Overall, the response to this session was positive and the PEB members were very happy to take part in this type of research.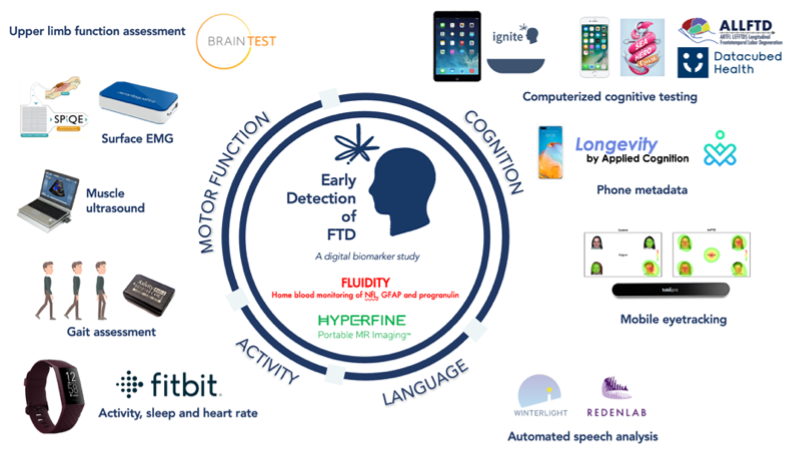 Interestingly, participants had varied opinions on having health metrics readily available to view on their smart phones. For example, the Fitbit app tends to show data on sleep patterns, heart rate and step count. It was discussed that this may induce anxiety and concern over whether any changes in these metrics are associated with symptom onset or disease progression. In contrast, some participants have suggested that access to this data has been a positive experience as it has encouraged them to increase their step count or shown them that they might be getting more sleep than they thought. It will be important to consider this feedback going forward and how to mitigate or reduce potential concerns.
The hope is that the introduction of these remote testing options will have many benefits to research and clinical trials by reducing costs, allowing for more frequent monitoring and by making testing more accessible to those who cannot regularly travel to research centres. This was supported by our members who thought this research would appeal to their family members who were less keen to be involved in a whole day of research.
Clinical trials and informational materials
Our final session was focused on clinical trials. We asked our PEB members what we can do as researchers to make their experience in research and trials as good of an experience as possible. Our participants highlighted the importance tailored psychological support as well as the opportunity to ask any questions and speak openly and at length with a dedicated point of contact within the research and trials teams.
Finally, we spoke more generally about ways to encourage less engaged individuals to take part in research and trials going forward. This discussion established that it would be useful for our team to create a set of informational materials that current participants could circulate to their wider family in the hope that this would help open an opportunity for a discussion. These materials will include basic educational information on familial FTD, a rundown of what a research visit involves, a summary of current relevant clinical trials and common myths associated with these areas. There was also an emphasis on including direct quotes from participants about their experiences of being involved trials and research in these materials.
We want to say a huge thank you to our Participant Engagement Board members who take time out of their busy schedules to attend these meetings as well as providing us with invaluable feedback throughout the year. And of course, an equally big thank you to our wider GENFI participants and their families for taking part in our research as without them, this research could not happen.
Sophie, on behalf of the FTD talk team.
Keep up to date on all things research by following us on twitter – @FTDtalk / @GENFI1